RK-7911 NEW Massage chair modern home furniture
1. Professional "L shape massage chair", 120CM super long massage stroke, from the neck to the buttock directly. L shape design fits your body back shape perfectly, deeply massage the neck and shoulders, deeply massage your waist, butt until the thigh.
2. Adjustable Zero Gravity luxury massage chair. Two actuators can provide body stretch and rocking massage.
3. 3D back massage mechanism can move forward by 7cm to seize your shoulder and neck, also can provide rolling, kneading, tapping, pressing and other massage programs. Driven by a new developed motor, the massage roller can change its direction quickly, no need to wait, it also creatives more massage techinique combinations.
4. Intelligient auto detection function which confirm the massage range according to the body shape.
5. Slide forward before lying down, saving space from the wall(8cm is ok).
6. Air pressure massage for shoulder, waist, arm, butt, calf and foot.
7. Back and forth rolling, squeezing and scraping massage for feet.
8. Extendable footrest, Maximum 8''. Special design for people with different height.
9. Heat on Lower Back and calf. LED light design on armrest.
10. With Remote Control Pocket inside the armrest.
11. Enjoy music during massage.
Main body: 1470*745*940MM

Armrest: 1050*405*695MM
Legrest: 530*445*540MM
Shoulder device: 780*355*550MM

20FT

40FT

40HQ

38 Units
function details:
1. 3D back massage mechanism, Back massage rollers with heating function, like the human hand of massagist,realize heating massage when massage machine do massaging on neck,shoulder,back,waist and hip.
2. L shape rail design.
120CM super long massage stroke,from head to the buttock directly.
Break the traditional L shape rail can not lie flat, can not stretch the defect, achieve
the ultimate massage experience.
3. Zero gravity function.
Based on the NASA zero gravity theory, and fundamental of TCM,
COMTEK created the most comfortable "zero gravity" massage postion.
Zero Gravity is when your body under the most natural and complete relaxation poise,legs are higher than body,realizing 128 ± 7°, it keeps
body fucntion in the best status.

4. Forward Sliding function
Micro space intelligent forward sliding function, keeps only 8cm from
the wall, slide forward automatically after switching on, saving space and displaying a perfect intelligent home concept.
5. With foot roller massage function.
Feet is the seccond heart of human body.With rollers device in sole part,supply comprehensive accurate massage,simulate the reflex zones,effect excellent physical therapy heath care efficacy.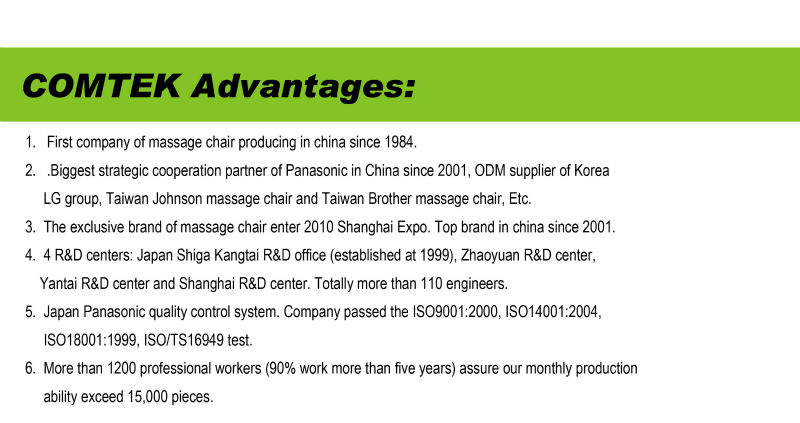 Company Information